Complete Dentures
Personalized dentures for your one of a kind smile.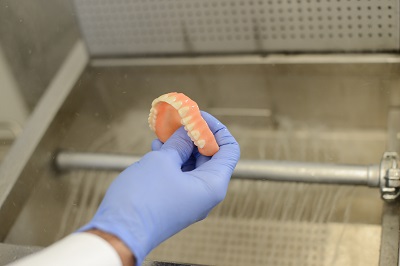 While standard dentures may fit comfortably and chew well, they are designed for the average patient using basic tooth shades and shapes. Denture patients with oral tissues that have resorbed (shrunk), or who have unusual jaw relationships (bite), may require a personalized denture that utilizes premium materials and precision techniques. With premium and personalized dentures, esthetics, comfort, fit and function combine to allow your smile to look more natural.
Premium personalized dentures are of the highest quality, instill confidence, and provide optimum function while eating, speaking or laughing.
In order to fully customize the dentures, sophisticated instrumentation is used to not only form an impression of your jaw, but to record specific jaw movements and facial information unique to you. This way, the character of your smile is recreated to match the original contour of your lips and facial muscles as much as possible.
Request An Appointment
Do you have a denture need or inquiry?
Schedule a FREE consultation with us.
"Smiling again! The quality of work went over and above my expectations! Peter pays attention to small detail!"