Denture Relines
Get your smile back in line.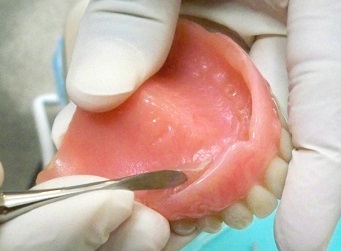 Denture relines work with existing dentures, adding new base material to the tissue side in order to create a better fit. Relining can restore your denture leaving it feeling as good as new. An impression inside your existing denture will need to be taken for this approach.
While relining will affect the fit and feel of your denture, it will not change the appearance or any other aspects, leaving you with the same smile you've always remembered.


Relines are required when tissue changes occur due to resorption (shrinkage).
Resorption can take months or even years to occur and can be caused by:
Loss of weight
Loss of teeth
Loss of bone
Normal ageing
Disease or illness
"Peter is a great guy and did a wonderful job with my implant secured appliance....now I have a extremely stable, open palette, upper row of teeth secured by four implants which were placed in my upper jaw bone..... It is really like having all new teeth again...couldn't be happier with my smile and the superior quality of the work!"
Contact us today to see if denture realignment is the right solution for you.
Request An Appointment
Do you have a denture need or inquiry?
Schedule a FREE consultation with us.