Soft Liners
Comfort your sore spots with a soft touch.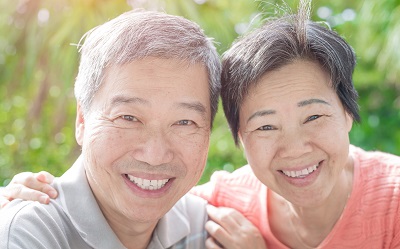 Permanent soft liners provide comfort and relief for individuals with:
Severely receded or flat gums that cannot tolerate the stress of dentures
Gums with prominent or sharp bony areas
Gums with prominent or sharp bony areas
Advantages of Soft Liners
Do you suffer from denture discomfort? A significant number of denture wearers with chronic pain have experienced great relief with the use of soft liners. Soft liners are very adaptable, as clinical evidence indicates that most denture wearers are able to tolerate soft liner materials. Soft liners provide great overall oral comfort, and allow denture wearers to chew food with ease.
Soft Liners and Oral Care
When soft liners are present, proper cleaners and good home care must be maintained
Regular follow-up visits are required to examine the fit of dentures, the health of a patient's oral tissues and to receive professional cleaning
If you are unhappy with the feel of your dentures, we invite you to find out how soft liners can make all the difference.
Request An Appointment
Do you have a denture need or inquiry?
Schedule a FREE consultation with us.
"I never thought that I would be writing a review for a denturist - but here I am doing it as I need to acknowledge Peter Iapichino DD as well Cindy, his amazing receptionist. Peter encourages me to come in for as many adjustments as I like and always ensures that I am comfortable. I would recommend Peter 100% - both the service and care are exceptional."